Artist for Lighthouses on The Mag Mile
ARTS OF LIFE
NORTH SHORE STUDIO
ARTS OF LIFE - NORTH SHORE STUDIO*
Artists with disabilities
The North Shore Studio will work as a collective, filling the surface of the lighthouse with unique sets of eyes. The eyes will be of all different shapes, sizes, colors, and styles representing the unique ways our artists see and create as individuals while working towards a collective goal for viability.
BERNADINO & MARIO RODRIGUEZ
Bernardino and Mario Rodriguez*
Artist with a disability
It is our mission to paint endangered animals on the lighthouse. We would like to paint endangered animals on the lighthouse. We believe this mission can get people to think about how the animals living on this Earth mean a lot to us, and it is better to see them around, but in the meantime, people can enjoy them on the lighthouse. By painting many animals in detail, we would like to see the lighthouse come alive, like a natural biodiversity place, and because Mario loves animals, painting the lighthouse will feel natural to him.
FERNANDO RAMIREZ - project onward*
Artist with a disability
Fernando Ramirez is an artist with Project Onward, a nonprofit studio and gallery for professional artists with mental and developmental disabilities.
Friedman place weavers*
Artists with disabilities
Our plan is to take a 40+ foot piece of fabric that has been woven collaboratively on a community loom by weavers who are blind and disabled and wrap it around the lighthouse. The various sections of the weaving are made of different types of threads and yarn, some very fine and smooth and others thick and rough. It will provide a ranging and varied textural experience to the person viewing and touching the completed lighthouse. The colors also vary by section, with some being muted and others quite bright. This piece has been selected in part because it shows weavers of various skill levels responding to pattern, texture and color by jointly creating an ultimate expression of their collaborative work. The final "woven lighthouse" will be a beautifully and visually arresting experiential beacon for access and inclusion for people with disabilities.
Friedman Place Weavers represent a unique point of view. Our Therapeutic Weaving Program functions as a creative outlet for individuals who are living with a disability or multiple disabilities, with blindness being the common factor. Our weavers are always eager to present their work and share with others what they can accomplish when the all-too-common barriers to inclusion are lowered. The opportunity to have their collaboratively created artwork displayed to so many thousands of people through a public display or this type is extremely empowering, compelling and validating.
KRISTINE METOYER*
Artist with a disability
Chicago is my home. The Mag Mile is my childhood, adulthood, and place I am most proud of to display the wonder our city has to offer to everyone.
KYLE LANGER*
Artist with a disability
I would like to participate in this project as another voice to bring awareness to mental disabilities and degrading mental health. It is something that I personally struggle with everyday and love doing what I can to help others struggling with the same problems everyday.
Louis demarco - project ownward*
Artists with a disability
Louis DeMarco is an artist with Project Onward, a nonprofit studio and gallery for professional artists with mental and developmental disabilities.
tellin' tales theatre: Matthew Kopp + Louis demarco*
Artists with disabilities
The mission of Tellin' Tales Theatre is to shatter the barriers between the disabled and non-disabled worlds through the transformative power of personal story. We want to participate in this project to make our mission even more visible to the general public. Our lighthouse will showcase the faces of our solo performers with disabilities along with snippets from their stories.
michael bryant - project onward*
Artist with a disability
Michael Bryant is an artist with Project Onward, a nonprofit studio and gallery for professional artists with mental and developmental disabilities.
michael langmack*
Artist with  a disability
Michael Langmack is a resident of the Continental Nursing and Rehabilitation Center in Chicago. He has cancer and was drawn to the Lighthouses on The Mag Mile campaign for the exposure it offers to communities with disabilities.
pooja pittie*
Artist with a disability
After being diagnosed with progressive muscular dystrophy, I am living with a constant mind-body struggle for balance between quick action and quiet inactivity. As I explore these constraints in my artwork, I combine broad, gestural brushstrokes with deliberate, small marks to create harmony. My proposed design for the lighthouse uses this style of painting to offer a glimpse into my liberating and enabling studio practice. Since the disability is an integral part of my paintings, it would be especially meaningful for me to create a piece of public art in Chicago, which has been my home for 15 years. This city and its community enable me to embrace my disability and celebrate it everyday!
ruby bradford - project onwward*
Artist with a disability
Ruby Bradford is an artist with Project Onward, a nonprofit studio and gallery for professional artists with mental and developmental disabilities. Her lighthouse design plays homage to Christopher Reeve.
william douglas - project onward*
Artist with a disability
My mission is to create a piece that talks about disability in different levels of acceptance or inclusion. I first made a list of words that I thought of when I thought of disability: good and bad, positive and negative or transitional up to the "light".
Some of the words I came up with are: workforce, diversity, everyone, community, speak out or up, pathway, charity, respect, care, integrate, validity, empowerment, commitment, dialogues, representation, growth, compassion, key, doorway, access, marginalization, exclusion, freedom, equality, tolerance, humanity, justice, leadership, opportunity, pride, sharing, equity, diversity, fear, change, decency, among many others.
Project Onward is a leader in supporting individuals with mental and physical disabilities through art. There is a network of support that is both healing and empowering.
4everly adorned
4Everly Adorned's mission is encouraging self-expression through art, while contributing to worthy causes. What better way to celebrate our mission than to participate in a public art display on behalf of The Chicago Lighthouse. This is a wonderful cause and seems like it would be an amazing opportunity to be a part of!
I'm the artist behind all of the work from 4Everly Adorned. My pieces are edgy, full of color, and inspired by street art. I would treat this lighthouse no different. It will be super colorful and full of life.
My idea is to do a mixed media piece using acrylics and a blown up photo of Helen Keller. I found the images from the Library of Congress and got their permission to use it. I'd use this photo, incorporate a quote of hers and I'd paint the rest of the entire lighthouse with colorful flowers.
The image and text would wrap and the flowers would not only be daisies, but a variety including roses, daisies, tulips, etc. When you check out my website, you'll see the types of flowers that I'm referring to. I'd also incorporate some paint splats and drips.
anne hanley
Recently a sponsor of your organization who I listened to on the radio passed away. I believe this project and all public art projects give the artist and the public an opportunity to connect. The Chicago Lighthouse is a great organization and we all need to be reminded that there are places that offer help in times of need. Public art projects I find fun and an opportunity as an artist to think outside of my routine. I just enjoy doing them and hope that I am helping someone both spiritually and physically.
The design "School of Fish" features acrylic paint and Magic Sculpt to enhance three-dimensional fish, books, and possible a bell at the top of the lighthouse.
blick art materials chicago loop
Like the urgent struggle of the bees, accessibility to the arts is in need of OUR help to thrive. It has become the responsibility of each and every one of us to create space for the creative process and to give platforms to those whose voices might otherwise be lost in the crowd. Creativity does not discriminate based on circumstance or ability- it is something that is truly accessible to all. Taking part in growing a brighter future for humanity has to start in our own back yard, on our own city streets. We will continue to welcome artists of all abilities and work to create space where opportunity is as abundant as imagination.
Blick Chicago Loop would love to participate in this project because it IS something that matters to us every day. How cool to participate in something that shines a light on artists of different abilities?! It is so important to everyone here that we play a role in making aspace for all artists.
brandin hurley
"As I have expressed, I believe that creating and experiencing art is a vital part of the human experience. Unfortunately, much of the time the arts are not targeted towards those that your program assists; and these are often the people who would benefit greatly from it. I was so toughed by the Lighthouse Stories – particularly those of Bobby (who uses his skills to bring stories and entertainment to listeners with vision loss), and Sammi Grant (who pursued her love of performance despite her visual impairment). Stories like these are incredible and inspiring, and I would love to do my small part to contribute to such a thoughtful and helpful organization.
In my piece, I wanted to capture what it can feel like to live in a world that isn't suited for your particular difficulties – whether it is being blind, disabled, or a Veteran, life can feel dark and lonely if you are not receiving the support you need. I wanted to express visually what a profound impact a few acts of assistance or compassion can have. I am utilizing the image of hands releasing colorful clouds into a dark abyss. In the same way that these clouds transform the dark, lifeless lighthouse, receiving the assistance that you need to live a full life can transform a person's outlook, mood, relationships, and abilities. With every release of a burst of color, the lighthouse becomes a little more beautiful, a little morefull of life and hope."
carrie carlson
"As an artist, I believe it is my responsibility to advocate for issues dear to my heart. I would love to stir up greater awareness for both the great work being done by The Chicago Lighthouse, as well as promote protection and restoration of Illinois native grassland ecosystems. The opportunity to celebrate diversity, and friends with visual impairments in particular, though the lighthouse sculpture project is just fantastic.
My goal is for this lighthouse to be experienced by both sighted and non-sighted visitors. The lighthouse design I propose draws on my love of tall-grass prairies and experience teaching students with visual impairments using the prairie ecosystem as a metaphor for respecting and treasuring diversity. One strategy I used a lot when teaching Biology was to turn visual concepts into textures and manipulatives. My experience in printmaking (making collagraphs and block prints) has prepared me with interesting techniques to create a tactile experience for people with limited or no vision. On the lighthouse, a wide selection of Illinois native plants and animals will reflect the importance of diversity. Some of the species, bird in particular, will have textured elements. There will also be two Helen Keller quotes featured, both in paint as well as Braille tape. Along the balcony ridges will be the phrase "Diversity Makes Us Stronger."
cHris silva
This project strikes me as an excellent way to create a beautiful piece of visual art in support of an extremely worthy cause.
cHRISTOPHER M TREJO
My work is often textural and I would be using acrylic, latex, aerosol and in this project I intend to use wooden "pegs" as braille in order to reach the visually impaired as well as incite curiosity in others. Last year I had the great privilege to be chosen to redesign a door for "Another Door Opens," an AIDS benefit hosted by Architectural Artifacts in Ravenswood. The goal was to redesign an antique door provided by them to later be auctioned with proceeds going to Chicago House…a social service organization providing help to those affected by HIV AIDS and those in the LGBT community that need assistance. It was an honor to be a part of that fundraiser and I have since been seeking another way to use my expression as an artist to be of service. I am excited to have found this project and would be honored to be chosen to offer my vision that I may help bring awareness to a wider audience about the needs of the disabled community as well as to the Lighthouse to those like myself who may have heard of your organization but not until now really know of your mission.
cJ HUNGERMAN
The idea is to intermingle symbolic icons for people with disabilities and my art. The icons I used are the most common ones that people see every day. I am open for this concept to evolve into greater meaning. As I documented in my application, I would like to work with an organization or individual in order to represent the idea of access and inclusion to the fullest extent.
In the past I have struggled with drug addiction and alcoholism. I would not be a productive/selling artist without the support of individuals and organizations that kept me alive. I enjoy creating art for positive projects. I have participated and donated pieces in exhibitions for The Rehabilitation Institute of Chicago and Diffa HIV Group among others. If I can be of any assistance to the Chicago Lighthouse and this project it would be my pleasure.
DAMON LAMAR REED
After researching the project, I found out just how common a disability actually is. It showed me that we all have hurdles to leap and obstacles to climb on the path to achieve greatness. My imagery shows a father telling his son to soar. It is my idea that through adversity, our own community must to help realize our dreams. No matter what the disability, we are more alike than we know.
dan capuli
Using a unique and innovative new typeface, "Braille You Can See" will highlight an inspiring message/quote, drawing attention to people with disabilities. The unique typeface can be read by anyone and incorporates braille within the type design. Also, the quote will be surrounded by hand-painted whimsical illustrations of people combined with multiple patterns. The message and illustration will uniquely convey optimism, love of life and celebration of people in support of the visually impaired and people with disabilities.
Original quote by Robert M. Hensel will be modified to be more positive:
Original Quote: "There is no greater disability in society that the inability to see a person as more"
**Key Message: See a person with disabilities as more.
diane rakocy
My process is very intuitive and organic – hard to demonstrate as a sketch with markers as opposed to acrylic paints which I would use for the lighthouse.

I would paint some type of botanical all the way around the lighthouse, in my technique to scale, using vibrant acrylic colors.
didier nolet
By connecting with nature, people find a balance that is missing in our fast city life. I would like for my work to be accessible to everybody, able-bodied as well as disabled people so that they can come close and touch the sculpture and listen to the recording of me talking about the project with the sounds of crashing waves and wind blowing through branches in the background. I also want to use some rich colors to brighten up the city. Chicago has developed some beautiful natural parks with prairie plants along the lake. It is very inspiring. I would like to carry it over with my work and share it with the world. My work is about beauty and the power of art that can bring light and happiness to everybody.
gabrielle cuiteikis
As stated above, I want the vivid colors to speak to viewers as hope and positivity. The sketch depicts a person with a disability in a boat on Lake Michigan. She is enjoying the sunset, breeze and fresh air. It is something so simple, but not everyone can enjoy it easily. With accessibility it is possible.
HAMAN CROSS 3
I am drawn to the idea of enlightenment in relation to the root word light. The concept of making something known by focusing energy in a specific direction with a specific intention presents an interesting mix of illustration opportunities. And how do you create an illustration that is inclusive in its presentation creating multiple channels for connection.
HILLARY MEYERS
Due to the fact that sketching something abstract is difficult, this gives you an idea of a design concept I am proposing. This is a raw depiction of a technique using a mixture of paints with different viscosities and textures which create a unique design. On the back, I envision the same, while at the bottom, I've added a special detail, a "peeling back of layers," if you will, to reveal something someone might not notice at first.
Raising awareness for inclusion through art is phenomenal and I would be incredibly honored to be a part of this crucial project. In addition to wanting to support my community, I am also the proud mom of the most delicious 13yr old with invisible disabilities. We advocate for him daily. Our hope is that with more awareness and education, will come empathy and kindness.
HOLLY WOLF MATTICK & THE PRAIRIE SCHOOL
The Lighthouses on the Mag Mile Project caught my eye as a practicing artist and an arts educator at an independent school. The project aligns with the Prairie School's mission and philosophy, which fosters creativity and community service. A tradition for the 3rd graders to focus on lighthouses as a major unit of study and the school's proximity to the Wind Point lighthouse attracted my attention to this call for art. As an artist who has successfully completed public art installations through the Illinois Art-in-Architecture Program and as an art teacher, I find this project a good match for my skill set and a wonderful way to work with students on an art project that goes beyond the walls of their school building.
Tactile, textural clay circles will cover the surface of the lighthouse, allowing many individual marks adding together to make a larger textural pattern. Symbolically, the whole is strengthened by the individual parts. Clay symbolizes strength and being well grounded. The majority of the clay pieces will be glazed in blues/greens/celadons to refer to water, a symbol of fluidity and adaptability. The colors will shift upwards into colorful sky of a sunrise. Some fused glass circles will be scattered throughout the composition to add variation and refer to the glass lens as an innovative tool used in lighthouses and in improving vision for those who are visually impaired.
The visual and tactile focus of artwork gives it more depth and accessibility for people to experience the sculpture with more than one of the senses.
JIM CARROLL
I moved to Printers Row last year, into an historic building that has a number of residents who are blind or disabled. I've been impressed by how independent as well as how active and accomplished they all are. I first met my neighbor, Pat, while she was walking down the street with her guide dog. I'm still getting to know her better but her story is fascinating.
Pat started to lose her vision in her 50's. She taught Psychology at the University of
Chicago. She's now retired but keeps stays as active as possible. Pat learned to use and work with guide dogs 25 years ago. She has had Carter, her current dog for nearly
3 years. He is her 5th dog. From Pat, I've learned a bit about how guide dogs are trained, and how they work with their blind partners to assist in being their eyes and ears and keep them safe as they go about their lives; commuting to and navigating at work, shopping, and other assistance.
I'd like to wrap a lighthouse sculpture with a colorful impressionist portrait of Pat and
Carter, walking on a busy Chicago street, to engage passers-by in learning more about
Pat's story through my social media efforts, and in turn, to inspire them to learn more about The Chicago Lighthouse and how it works to help make inspiring stories like Pat's possible.
I want to use my gift for telling compelling visual stories to recognize and honor those who are driven to live inspiring, productive lives despite their disabilities, and to grow awareness of and support for these people and for the organizations, like The Chicago Lighthouse, who help them.
kaitlin stober
My mission is to encourage viewers to think critically about labels and other barriers that people with disabilities regularly face in the movement towards full and meaningful community inclusion and integration. In particular, my piece was created with specific consideration of the community of people with intellectual and developmental disabilities (IDD) because of my relationship with my younger brother who has Down syndrome. When considering the historical, and continuous, institutionalization and exclusions of persons with IDD from society, I think about the shallow assumptions that some people make based on the label 'intellectual disability;' more often than not, IDD is equated to deficit and incapability.

Instead of painting actual people with IDD, my proposed lighthouse features dandelions growing against and up along a deteriorating brick and concrete barrier, or wall. Despite having similarities to other, more commercially desirable flowers, dandelions are labelled as weeds.

Weeds are widely unwanted and seen as burdensome. As such they are uprooted from carefully manicured lawns and left to grow in clusters with other dandelions on the margins of gardens. Dandelions demonstrate extensive strength and resilience, growing through cracked concrete sidewalks and forcing their way into the path of others to gain recognition. Personally, I've always loved dandelions. I like the spunky, yellow form as well as the white wispy body that I used to make wishes on with my brother. Most children stop treasuring dandelion bouquets as they age, and the label of 'weed' overpowers their initial judgements of the tiny flora.

I hope to capture the beauty and strength of dandelions, and perhaps inspire viewers to appreciate the subject beyond what it is labelled. In combination with the Lighthouse's message of disability inclusion and celebration, I would like this piece to reflect the erroneous association between diagnoses of disability and deficit.
KEN KLOPACK
My objectives for this art piece are to create an artwork that pleases me and reflects my painting style in color and composition, communicate a positive message that represents my beliefs and those of the Lighthouse organization, allow the observer(s), young and old, to interpret the narrative in their own way, and ultimately with an understanding of the intended message, have fun creating the workm and create a work that gives pleasure and enjoyment to those who see it.
KRISTI O'MEARA
I believe this project would be a fantastic opportunity to explore a new, 3-dimensional application of my work in a public atmosphere, while supporting an organization that offers resources and creates opportunities for individuals with disabilities within our community.
Inspirational quotes that speak about accepting and overcoming disability, written in 3-dimensional lines of braille, will wrap around the lighthouse.
LAUREN FEECE
I would like to participate in this project because it offers me a unique and exciting opportunity to use my art to connect people to their power to make change in the world around them. This project aligns completely with my personal mission as an artist.
lisa birmingham
Anatomy is one of nature's best works of art. This work pays homage to the many beautiful structures within the human eye. By visualizing these tissues, scientists and physicians gain better understanding of ophthalmic anatomy. In doing so, it is hoped that better treatments and cures can be developed for eye diseases that affect so many.
The sculpture will be painted with dimensional paint so that those with visual impairment can also experience the art.
lORI MURPHY
I am experienced with painting these fiberglass sculptures for Michigan Avenue, have been doing it for four years. My daughter, who has autism and multiple disabilities is my studio assistant and works with me full time. We would be working together on a lighthouse if we participated in the project. My idea involves using photo reactive pigments, that respond to light and change. The horse I painted that was on display in front of the Wrigley building was painted so that it charged during the day, then lit up at night, so that it looked like stars twinkling. I would like to paint a lighthouse with a similar theme.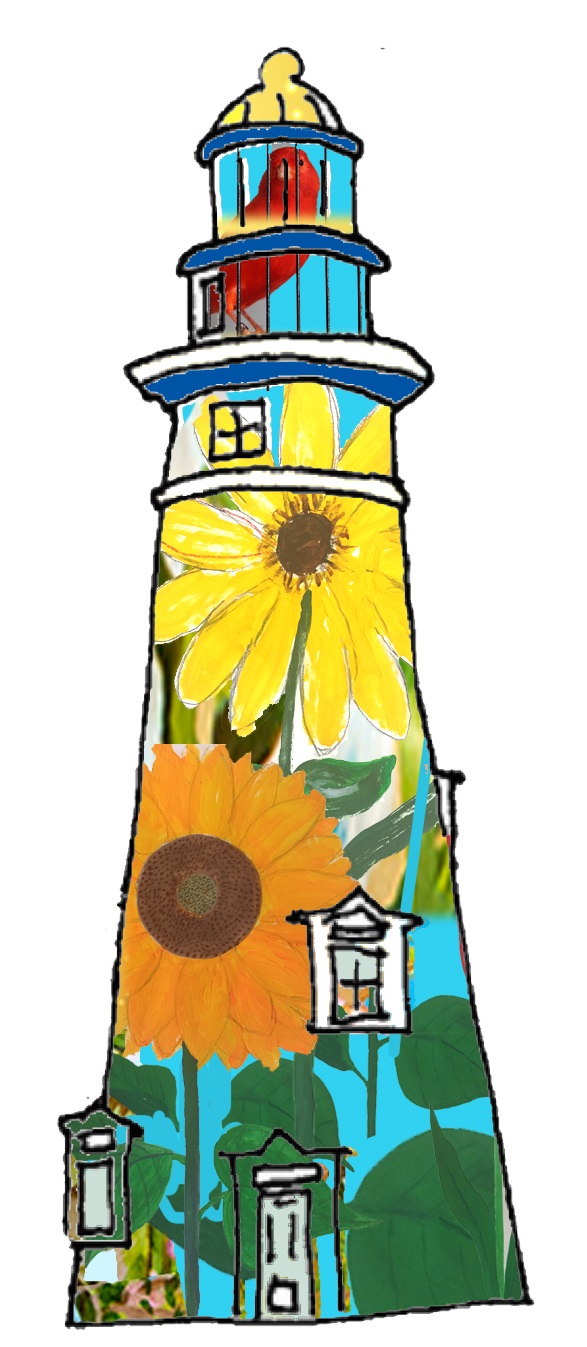 MARGERY GOULD &
LYANE JACKSON
MARGERY GOULD & LAYNE JACKSON
We feel it's a great cause and something we have both been interested in for a long time and merits our intentions. We both believe strongly in inclusion and opportunities for all people and all walks of life.
Margery: A family member had for many years been a reader for the Sight Impaired and this made me aware of the great work being done to provide attention to the cause.
Layne: I was the recorder for many years, for the Texas School for the Blind, and it was a great joy to work with the Readers and know how popular our books were.
MArk nelson
I love what I do and I believe in civic duty and my mission has been to share with others the skills and knowledge I have been entrusted with by my teachers and life's journey through directly engaging the visitor. The proposed modification I have for the lighthouse "Dream" is to engage the sense of touch, sight and sound through the acoustic installation of a wind harp to be made based on ancient Greek learning inside the lighthouse form and to (Dremel) engrave paint the energy and dynamic textural relief on the outside that includes a braille sign on front and back titled "Dream."
SANDIE BACON &
JOHN HATLESTAD
SANDIE BACON & JOHN HATLESTAD
Both John and I are honored to have opportunities to share our artistic vision(s) to the world: through public art installations, teaching to a wide community base, and through our artwork. John's work is about recycling items in combination with his woodworking that were discarded in order to honor them, and give them dignity and respect. Sandie's work is about the fragility of ecosystems, and how we need to nurture all of the environment to cherish what we need to protect.
SARAH JENKINS
As a paraprofessional educator at a therapeutic day school for children with profound developmental disabilities, I am continuously blessed and challenged by my students. Every day is a repeating cycle of grief and celebration as my students struggle, grow, and learn how to communicate with their teachers, therapists, and peers. I believe it is important to resist romanticizing the very real and practical challenges that accompany disabilities while also celebrating the perspectives and strengths individuals with disabilities contribute to our communities. Many of the students in my classroom were previously dismissed as having no potential for growth. However, when given support and resources, my students have proven that are capable of so much more than merely surviving - in fact, they thrive. Through my Lighthouse sculpture, I hope to help us imagine the beauty and wonderful potential that results from inclusion.
The design will include acrylic paint as well as tiles and glass pieces.
VIVAN VISSER
I plan to make a lighthouse true to reality with beautiful paint and 3D forms. This design features three-dimensional flowers.
YU-HUI HUANG & EDUARDO ARIAS
YU-HUI HUANG & EDUARDO ARIAS
Trained in the medical arts of clinical anaplastology and ocularistry, we fabricate facial prostheses and oculars for patients with missing anatomy and often missing senses including but not limited to vision and hearing. Meticulous planning is fundamental to a successful prosthetic treatment. However, equally as important is understanding the needs of the patient, their emotional state, their hopes and their goals to achieve an optimal outcome and quality of life. This is accomplished by not only treating the facial defect but by treating the patient as a whole and as a person while addressing the psychosocial aspects of care. Upon completion of the prosthesis, smiles and tears are often shared. To the patient, it is not merely an inanimate silicone prosthesis improving aesthetics but is something that helps to foster courage to face the world and live a life without fear and self-consciousness. To us, our sense of pride and accomplishment stem not from the beauty of the prosthesis but rather from the satisfaction of the patients. These clinical experiences combine our longstanding passion of arts and humanities with science and technology to improve the human condition. The Lighthouses on The Mag Mile would offer us the opportunity to promote awareness and celebrate inclusion for people with disabilities through our passion for the arts and humanities to the public.